Saturday, February 28, 2009
Ted Haggard shamed in gay sex/meth scandal. James Dobson gives up his throne.
These are just a few of the headlines that have come from the little town of Colorado Springs in the past couple of years.
How did this sleepy, conservative town become an evangelical Mecca?
"This Beautiful City",
a brilliantly executed and engaging play, answers this question. It takes you back to the 1980's when Colorado Springs tried to attract new businesses through tax breaks. Focus on the Family moved from Southern California and dozens of evangelical organizations followed, transforming the town. Ted Haggard's New Life Church was formed with the goal of revival in Colorado Springs.
I went to see the production in New York City's Vinyard Theatre (108 East 15th Street) this week. I give it
two thumps up
(too bad I don't have a third hand) and highly recommend it. This Beautiful City was timely, terrific and thought provoking.
To write the script, The Civilians, a New York theater group, actually ventured to Colorado Springs to interview locals. This resulted in writers Steven Cosson and Jim Lewis (music) presenting realistic, eye-opening dialogue and songs. The acting was superb and led to a boisterous standing ovation.
If you live in New York City or may be visiting, inquire with me about the Truth Wins Out discount.
____________________________________________________
SPECIAL TRUTHWINSOUT.COM $40 (reg. $60) TICKET PRICE!
TO PURCHASE TICKETS:
1. Click here to order tickets ONLINE and use code JTI40TBC
2. Call 212.353.0303 or 866-811-4111 (for extended hours) and mention code JTI40TBC
3. Visit the box office at 108 East 15th Street Tue 1-7pm, Wed-Sat 1-8pm, Sun 1pm-3pm and mention code JTI40TBC
*Conditions: Ticket discount valid for all performances through 3/15/09. Some blackout dates apply. Phone and online orders are subject to regular service charges. This offer is not valid on previously purchased tickets, is subject to availability and may be revoked at any time. Offer Expires 03/15/2009.
19 Comments
---
Friday, February 27, 2009
Truth Wins Out (TWO) expressed its hope today that James Dobson resigning as chairman of Focus on the Family would eventually lead the anti-gay organization in a new direction. Dobson has created an entire industry that distorts the lives of gay and lesbian people for political gain, says TWO.
James Dobson's legacy of lies has caused significant pain for gay and lesbian people and their families. I hope his departure will eventually signal a shift in tone and end Focus on the Family's destructive attacks against gay and lesbian Americans. But, I remain skeptical.
The Associated Press report
s that Dobson, 72, will still be a powerful presence. He will continue to host his daily radio show, which reaches 1.5 million listeners in the United States. A Focus on the family spokesman also said he will "continue to speak out as he always has - a private citizen and not a representative of the organization he founded."
It is time for Focus on the Family to abandon the politics of polarization and choose moderate leaders who are not fixated on culture wars. This would also be a good time for the organization to consider abandoning its failed "ex-gay" ministry, Love Won Out.
In Nov. 2008, Truth Wins Out protested Dobson's selection into the Radio Hall of Fame. In the past two years, TWO has found eight researchers in three countries who say that Dobson has distorted their work. Videos and letters that these scientists sent to Dobson can be viewed at www.Respectmyresearch.org.
Dobson's rhetoric is so divisive that former House Majority Leader Dick Armey (R-TX) said that, "Dobson and his gang of thugs are real nasty bullies." Focus on the Family co-founder Gil Alexander Moegerle said that, "I believe Dobson-style politics have been inept, simplistic, exclusionary, divisive and alarmingly sectarian...James Dobson's political style has been one of relentlessly demonizing his adversaries."
Dobson told The Daily Oklahoman on Oct. 23, 2004 that, "Homosexuals are not monogamous. They want to destroy the institution of marriage. It will destroy marriage. It will destroy the Earth." Dobson also told the Daily Oklahoman that Sen. Patrick Leahy (D-Vt.) is "a God's people hater. I don't know if he hates God, but he hates God's people."
Truth Wins Out is a non-profit organization that defends gay, lesbian, bisexual and transgender people against anti-gay misinformation campaigns. TWO also counters the "ex-gay" industry and educates America about gay life.
20 Comments
---
10 Comments
---
Thursday, February 26, 2009
TWO's founder Wayne Besen will speak Monday, March 2 at the Broadway For A New America event - where there will be a concert for marriage equality. The extravaganza will take place at the Peter Norton Symphony Space in New York City. (2537 Broadway, at 95th Street).
The Jewish Alliance for Change will present a star-studded benefit concert that will feature a dazzling array of over 25 top-name performers from the worlds of Broadway, television, film, music, and comedy -including many Tony, Emmy, Oscar and Grammy Award winners and nominees.
The event will be hosted by Tony and 2-time Grammy Award winner Jim Dale and will star Richard Belzer, Scott Blakeman, Ann Hampton Callaway. Other leading lights include, Stockard Channing, Fran Drescher, Melissa Errico, Tovah Feldshuh, Mario Frangoulis, Shauna Hicks, Jonathan Freeman, Cheryl Freeman, Norm Lewis, Michael Longoria, Rebecca Luker, Nellie McKay, Anne Meara, Karla Mosley, Hugh Panaro, Rosie Perez, Krysta Rodriguez, Seth Rudetsky, Jeremy Schonfeld, Kathleen Turner, Noah Weisberg, Lillias White.
Doors Open & Silent Auction at 6:30 p.m. and the concert begins at 7:00 p.m. Ticket prices are $40, $60, $80 and $10o. There will also be GLBT leaders including:
Evan Wolfson (FREEDOM TO MARRY, Founder and Executive Director);
Steven Goldstein (GARDEN STATE EQUALITY, Chair);
Alan Van Capelle (EMPIRE STATE PRIDE AGENDA, Executive Director);
Wayne Besen (TRUTH WINS OUT Founder and Executive Director)
Rabbi Sharon Kleinbaum (CONGREGATION BETH SIMCHAT TORAH);
Rabbis J. Rolando Matalon and Marcelo Bronstein
Tickets can be purchased at the Jewish Alliance for Change website
Tickets may also be purchased at the Symphony Space box office,
through the theater website (www.symphonyspace.org) or by phoning 212-864-5400
Premium seating tickets, which include program recognition and admission to the VIP after-party with the stars, are available for purchase through www.Jews4Change.com
Please join us for a memorable evening of great performances while helping to overturn Proposition 8 and enact marriage equality legislation in New York and New Jersey.
12 Comments
---
A Bronx man
is under arrest
in the slaying of a real estate agent viciously beaten by bat-wielding thugs because they mistakenly thought he was gay, police said Wednesday.
Hakim Scott, 25, was nabbed near his home on E. 161st. St. on Tuesday and confessed to his role in the Dec. 7 attack on Ecuadoran immigrant Jose Sucuzhanay, according to cops.
"He felt bad and he was glad to finally get it off his chest," Police Commissioner Raymond Kelly said.
Scott's pal, ex-con Keith Phoenix, 28, is still on the lam. Police believe Phoenix mercilessly battered the 31-year-old Sucuzhanay as he lay helpless on a sidewalk.
6 Comments
---
Louisiana Gov. Bobby Jindal's swipe at federal spending to monitor volcanoes has the mayor of one city in the shadow of Mount St. Helens fuming.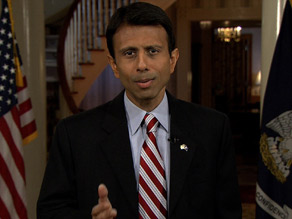 Gov. Bobby Jindal says spending for the U.S. Geological Survey is questionable.

"Does the governor have a volcano in his backyard?" Royce Pollard, the mayor of Vancouver, Washington, said on Wednesday. "We have one that's very active, and it still rumbles and spits and coughs very frequently."
I'm sure the increasingly idiotic governor of Louisiana would favor federal spending to keep the levees strong in New Orleans. But, in the typical selfish Republican way, Jindal thinks spending is only proper if it is lavished on special interests that affect his narrow orbit.

What is clear is that Jindal is an ambitious man running for President before the paint has dried on Obama's White House. He should do the nation a favor and put our collective interests over his political career.

8 Comments
---
Tuesday, February 24, 2009
(Weekly Column)
It is an odd time to be gay in America. Whether you are celebrated or despised depends on where you stand at any given moment.
The most dramatic example of this dichotomy occurred on Sunday evening at the Academy Awards. To attend the glamorous event, one had to drive past anti-gay protesters shouting vile condemnations of homosexuality. Once inside, guests were treated to perhaps the most pro-gay Oscar extravaganza in history.
First, openly gay Dustin Lance Black won Best Original Screenplay for "Milk". Black gave a moving
acceptance speech
to thunderous applause and told GLBT youth that they were "beautiful, wonderful creatures of value...no matter what anyone tells you."
The icing on the cake was superstar Sean Penn's remarks after winning an Oscar for his role as Harvey Milk.
"For those who saw the signs of hatred as our cars drove in tonight, and, I think that it is a good time for those who voted for the ban against gay marriage to sit and reflect and anticipate their great shame and the shame in their grandchildren's eyes if they continue that way of support."
The GLBT community has come a long way. It is now acceptable for top tier straight men to play gay roles without it negatively impacting their careers. This is no small achievement and we should be quite grateful to have obliterated this barrier that once seemed insurmountable. (Let's not forget Tom Hanks who played a gay man with AIDS in Philadelphia.)
Before we sip the Champagne, we should remember that there is still an ongoing taboo against openly gay actors playing leading men in Hollywood. On the morning of the Oscars, the New York Times Magazine
wrote a profile
on actor Rupert Everett discussing the obstacles he faced as a result of coming out. The article spoke of the time he was turned down for a major movie role because of his sexual orientation. An MGM executive told his agent, "to all intents and purposes, a homosexual was a pervert in the eyes of America."
Clearly, some glass ceilings still need to be shattered. It should be a major priority among GLBT activists to make sure this breakthrough in Hollywood comes to fruition.
Equally jarring was my experience in Charlotte, North Carolina this past week. My organization,
Truth Wins Out
, traveled there to counter Focus on the Family's "Love Won Out" conference, where they teach people to "pray away the gay."
On a beautiful Saturday morning, I broke away from our protest group to attend a seminar at Love Won Out. It was heartbreaking to see more young people than I ever had before at this traveling "ex-gay" road show. There was a cardboard sign that read "Youth Track", and several teenagers -- some that appeared not much older than 13 -- were being taken inside by their desperate and confused parents.
Outside the conference were many dedicated local activists, such as Matt Comer, who organized our protest. Counter-protesters from Operation Save America greeted us. They preached that in 1973 the Lord turned against America. In this year, they said, God was angered by Roe v. Wade, the American Psychiatric Association removing homosexuality from its list of mental disorders and Israel's war with the Arabs. Yeah -- this is a bizarre conclusion to draw, but one that compelled about one dozen troglodytes to bring signs calling us "whoremongers."
On the other side of town, the Human Rights Campaign held
its annual North Carolina dinner
. Much like those who attended the Academy Awards, attendees were greeted by belligerent Bible-thumpers who shouted Scripture into megaphones.
The dinner itself was an elegant affair that featured an excellent motivational speech by HRC Executive Director Joe Solmonese and a keynote address by Sen. Kay Hagen (D-NC). It was truly inspiring to hear Sen. Hagen, who occupied the seat once held by the notorious Jesse Helms. (R-NC).
The week ended with
a hateful ad
by The Policy Council of West Virginia, which compares same-sex marriage supporters to snipers targeting families. The more we progress, it seems the more our opponents regress and resort to
shrill and bombastic attacks
.
At any given moment, GLBT people are portrayed as either wonderful or wicked. While it is still painful to be put down, I can't help but notice that when it counts -- whether in Hollywood or Charlotte -- it is we who are increasingly on the inside. While our opponents could win Oscars for their dramatic protest performances, they certainly can't like the way the script is unfolding.
9 Comments
---
The Family Policy Council of West Virginia should immediately remove
an online video ad
that compares same-sex marriage supporters to snipers targeting families. The goal of the ad is to rally supporters to lobby in favor of amending West Virginia's constitution to prohibit same sex couples from marrying.
This kind of overheated rhetoric creates a climate where hate crimes can occur. We should demand that The Family Policy Council of West Virginia apologize and take down this violent ad. This video is reckless, wrongheaded and irresponsible.
In the Federal Bureau of Investigation's latest
hate crime report
, such crimes based on sexual orientation were ranked third (16%), slightly below religion (19%) and race (52%). The ad is part of a plan to get hundreds of churches across West Virginia to participate in a "Stand4Marriage Sunday'' on March 1.
According to
the Associated Press
, "about a minute into the video, the crosshairs of a rifle scope appear over the image of a family blowing bubbles." The narrator warns that "same-sex marriage is a closer reality in West Virginia than you may think,'' and that activists are "working tirelessly to define marriage away from God's design.''
The AP also reports that The Family Policy Council of West Virginia, has yet to register as a charity with state officials, though it's reported raising enough to trigger that requirement.
The Family Policy Council is not above the law. The state of West Virginia has an obligation to immediately investigate and ensure they are following the rules.
Like other attempts to ban marriage in state constitutions, there is evidence that this effort is no more than a sneaky attempt to elect Republicans. The AP story said that both of the council's Web sites were created with the help of CampaignSecrets.org, a Georgia firm that says it is "focused exclusively on electing Republicans to local office.''
Such "Family Councils" are often tied to Focus on the Family, an organization that runs the Love Won Out conference that teach homosexuals to "pray away the gay."
This is a golden opportunity for Focus on the Family to demonstrate their professed love for gay people by reining in their renegade offshoot in West Virginia. What do you think the chances are that they will back up their "loving" rhetoric with action?
14 Comments
---
Monday, February 23, 2009
8 Comments
---
5 Comments
---